The Revolutionary iPhone from Apple
This is the all new revolutionary iPhone from the giants Apple and oh my word what a technical breakthrough in technology, where do I begin? Well lets begin with that this mobile phone hold on or is it a mobile computer no hold on it is a iPod oh now I am confused let me think about this because it has so much going on it will blow your mind, there you go I got it is all of the above and more.
This iPhone is in fact 3 amazing pitches in one with 3 very different packages which is a mobile phone and iPod and also a very advanced internet communications gadget, this new mobile revolution is packed full of surprises for example the screen is in fact a touch screen which is pretty large at 3 and half inches now that's good.
The video player function is pretty good we have been told and with the 3 and half inch touch screen widescreen facility makes it even more better to control which means just touch the screen with a nice gentle tap and you can control the video player and using the ipod is very simple as well just tap the screen and bish bash bosh music to the ear.
The iPhone also allows you to email send SMS and MMS and voice mail messaging with the use of the predictive QWERTY keyboard built in which is activated by yes you got it tapping the screen, the mobile marvel comes with a 2 megapixel camera which also has a photo management app which is the best by far plus has the best feature by far a feature which is the HTML email client and a new thing I have never heard of called Safari (well we learn something new everyday I suppose) and this mean this is so far the best in its kind which is also the best advanced web browser and this works by automatically syncing bookmarks from your very own Mac or PC and they say that the Safari includes the search engine giants Google and Yahoo services (where is MSN then).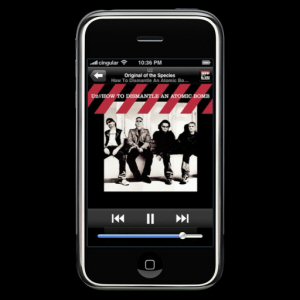 The iPhone from Apple also feature multi touch and this means you control the whole phone with your finger or fingers, it has Bluetooth with EDR and built in sensors plus the phones works and displays portrait and landscape mode and sensor part is all about for example when you pick the phone up to take an incoming call or the same applies if you make a call it turns the display off to save on power and also stops your cheek pressing against the touch screen pressing what you do not want to press.
The Technical Bit —
– Screen Resolution of 320 by 480 at 160 ppi (ppi = pixels per inch)
– Multi Touch
– 3.5 Inches Screen Size
– OS X Operating System
– You will have option of 4GB or the larger 8GB of Storage
– GSM Quad-band (MHz: 850, 900, 1800, 1900)
– Wi-Fi (802.11b/g) – EDGE + Bluetooth 2.0
– Up to 5 hours Talk Time
– 16 Hours Audio Playback
– 115 x 61 x 11.6mm
– 135 grams
Phones Review Overview and Points — Totally Amazing breakthrough in technology and as far as we can see is a very worth phone to have on you and with the features such as multi-touch and a large 3.5 inch touch wide screen seems to be an option you really do need. The best part is that the iPhone will be around at an introductory price of £250 when it launches and that is to be around June of 2007. Overall points has got to be a 10 out of 10.
The USA will be getting this phone before the UK we believe if you know any different then please do let us know.
Let us know what you think of the new iPhone and will you be getting one?