Special Edition Sharp 770SH McLaren Mercedes Phone
As I can see the special edition Vodafone Sharp 770SH McLaren Mercedes mobile phone is to mark the move Fernando Alonso made to another team and this new handset comes with the sassy colours of red, silver and black.
The Special Edition Sharp 770SH is packed with a 1.3 megapixel camera plus the chance to listen to music on the built in MP3 player and also transfer music and data via the Bluetooth, the display screen features a 262k colour QVGA resolution and has video capability. This handset comes with a boring and very low 5MB of internal memory so they decided it had to have an SD card slot for that all important memory gain.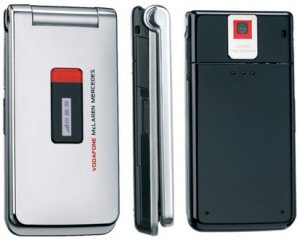 This particular Sharp 770SH McLaren Mercedes phone is not aimed at the intermediate phone user but nether the less is still pretty good and looks pretty cool, with little things like 220 minutes of talk time and 340 hours of standby time is not bad. The Sharp 770SH mobile phone weighs 110 grams and the size is 101×49.9×17.1.
Phones Review Overall View — Not a bad phone really, yes not the best in the world considering the standard of technology in phones nowadays but yet still a very good phone.
Source Via — NewLaunches.com