Press Release – Wireless Nokia Intellisync Email now available for Sony Ericsson M600 and P990
Nokia Press Release – Just announced is the new relationship between Nokia and Sony Ericsson which will give you the Nokia Intellisync Wireless Email to Sony Ericsson's mobile phones which are the Sony Ericsson P990 smart phone and the Sony Ericsson M600, Nokia Intellisync Wireless Email will let professionals use fully synchronized email which is real time plus calendar and contacts and is now available as of immediately.
This gives you more flexibility because not only are you getting the above Nokia Intellisync Wireless Email gives you a totally wireless communication capability for near enough any device built on any platform. Nokia will now let operators and enterprises deliver wireless communication services like email, contacts, files and data apps which is very secure indeed for all Sony Ericsson users.
The Sony Ericsson P990 smart phone has a 2 megapixel camera which also has auto focus plus is Wi-Fi enabled UMTS; it also has a full QWERTY keyboard which is located beneath the flip down alpha numeric keypad – View Details on the P990 HERE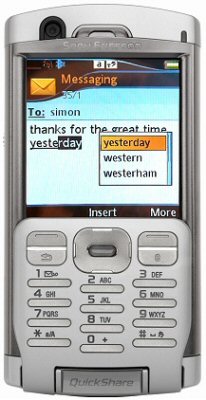 The M600 mobile phone is a very nice looking phone with touch screen and the display screen is 2.4 inches – View Details on the M600 HERE