The Popular Chocolate Phone Goes Platinum
The all new LG KE800 Chocolate Platinum is and has to say even better looking than the original Chocolate phone, the Chocolate Platinum has the glossy look still but also has a new casing which looks great but will the features be as good as the LG KG800 model this is the question. Many people love the LG KG800 but many say the specs need to be better so can the new platinum live up to this expectation.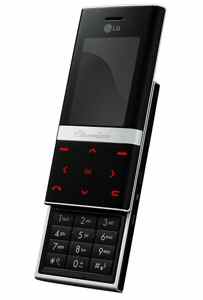 As we all know the LG KG800 Chocolate phone was one of the top selling phones of 2006 and is still a good seller but we need more we need to see a little bit of inspiration so let us see if we get it.
You will get the touch sensitive buttons like the first one and the slider form as well but now you will get a 2 megapixel camera instead of the 1.3 megapixel plus it comes with auto focus and you will also get a memory expansion slot. A FM Radio to listen to your favourite stations and you get flight mode as well.
Phones Review Overall View — Have to say that the LG KE800 Chocolate Platinum is a good choice and is better than the LG LG800 with better looks and upgraded features all in all very good well done LG.
Pre-Register your LG KE800 Chocolate Platinum mobile phone RIGHT HERE
Will you get the all new LG KE800 Chocolate Platinum?