The Blank Phone Concept Functions Better than the iPhone
The new phone called the Blank is a concept that they need to pull out of their butts and bring it to reality, if this new concept was in reality and not in some ones head I can see it well to cut a long story short KILL the iPhone. This new stunner of a mobile phone called the Blank has no buttons whatsoever.
The buttons are gone the keys are gone it has all gone, it has an OLED touch screen that wraps around the entire phone, this means a 360 degree touch screen. So by having a touchscreen that's wraps around the whole phone you can have kinetic skins added at any time to suit your mood. There will be a much lower consumption which means more battery life, plus a higher contrast ratio and full widescreen, numpad for dialing.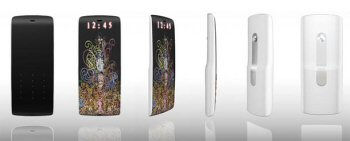 Oh well back to reality, damn you people who never give us phones like this.
Source via — Yanko Design