Mobile Phone Lets Women Know their Fat Cheeky
This mobile phone called the Philips 598 is a cheeky little beggar, sorry ladies but if you are fat this mobile phone will be sure enough to tell you if you are. It is bad enough a man calling you fat but a mobile phone. Cannot see this phone being liked personally!
The Philips 598 does look pretty stylish with its black and gold looks, features include a digital diary and the well up to you what you want to call it a body weight index, date book, shopping list (yeah more food yeah more fat).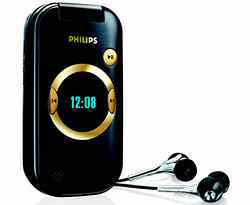 The phone also has a discount manager, and a basal metabolic rate measurement. The Philips 598 mobile phone is a stylish looking phone but will it telling you are fat comprehend the style?