Customers Review of the Samsung E250 Mobile Phone
The review written below is a comment posted to us from Robert Hampson
I have had the Samsung e250 for about a week now and generally it seems to be a very good phone. It looks good in black as a slider. It has a good music player and fm radio. It has a camera, can send texts and receive emails and it also makes phone calls, Amazing! Unfortunately there are a few silly little things that had to be taken into account when I rated this phone. First the music player, the internal memory is only big enough to store one track so you need to buy a microSD memory card.
There is no USB lead supplied with the phone so you either have to buy one or a dongle if you actually want to be able to transfer tracks onto the phone, you can only listen to the music through supplied headphones which is without hyperbole, and are rubbish. Large ones that make your ears ache after about ten minutes. I know from experience that Samsung can supply very good earphones as I own one of their mp3 players which came with the best earphones I have ever experienced why they couldn't supply it with these I do not know. Also you can only listen to tracks that are attached to the play lists which there are only four of with a maximum size of 30 tracks. Why couldn't I just listen to my music straight from the folder? strange!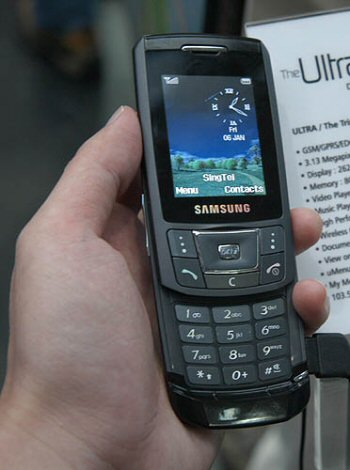 The speaker in the phone is actually very good for a small speaker, obviously it is tinny but it is quite loud and clear. The fm radio is great when you can get reception using the supplied earphones which is to be frank rare. Now for the camera, it can take pictures and videos which is great but the resolution is only vga (0.3mp) so obviously you could only print out relatively small photos with it on your computer (after you've bought dongle or USB lead). Also very little movement causes blur when fully zoomed in it is very hard to keep still enough to take photo. This is because it is not an optical zoom, all the camera does is show you fewer of the pixels it is seeing so it is basically a small section of the photo you would have taken anyway in a smaller resolution.
Texting is one of the bonuses with this phone the t9 predictive text is great and gets 90% of words you want without a hitch. Punctuation is a problem though every time I do a text with an exclamation mark I have to figure out how I do it. You have to press some buttons twice or something, weird. The actual calling is great with awesome reception and great sound quality. The games are ok but to get decent ones you have to pay £4.50 from the Samsung website and they actually aren't that good. DO NOT BUY BAND OF BROTHERS IT IS RUBBISH.
Basically do not get me wrong this phone is a good phone but if Samsung had put just a little more effort in it could have been a great phone. For information and specifications please CLICK HERE
We here at Phones Review wish to say a big thanks to Robert Hampson for supplying us with this great comment on the Samsung E250.