Ultra Slim VX-818 Bluetooth Speakers with Touch Pad
Now this is style at its best, this is the accessory that all will envy. The ultra slim VX-818 Bluetooth speakers with touch pad from Veritronix oozes style when it comes to design and functionality. The reason it is ultra slim is because these speakers are only 13mm thick/thin.
The best feature about these Veritronix VX-818 Bluetooth Speakers is that they have a clever ultra intuitive interface with convenient touch pad. Other features include Bluetooth V2.0 Connectivity, Hand free support (Optional) and pure Stereo sound.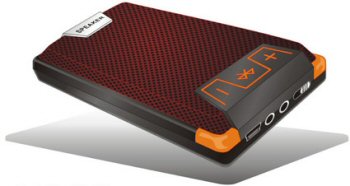 Specifications —
– Power output /RMS: 0.8W x 2
– Line-out: 3.5mm stereo jack
– Lin-in: 3.5mm stereo jack
– Driver units: 20mm 1.5 @ 4-ohm
– Battery Capacity: 650mAH Li-ion rechargeable battery
– USB charging
– Playback duration: 8 hrs
Not sure on price and availability as of yet.
More mobile phone accessories below on our new 'Where to Buy' section, please take a look.
Source — Engadget