Sprint's New Release Flip Phones: Sanyo Vision SCP-3200
Sprint have just announced their new releases to the cell phone world, these new phones go by the name of Sanyo SCP-3200. Sprint have said keep your family connected with these new Sprint PCS Phones by SANYO, These new Sanyo SCP-3200 mobile phones are exclusive to Sprint and come in an array of colours that will suit all, they are pretty stylish and vibrant.
SCP-3200 Atlantic Blue
These Sanyo Vision SCP-3200 camera phones feature Sprint Vision services which means quick and easy web access, e-mail and text messaging, they have Bluetooth capabilities, built-in antenna and they also allow parents to access the Parental Controls tool to limit phone call access or web usage.
SCP-3200 Midnight Black

Sanyo Vision SCP-3200 Main Specifications —
– VGA Camera
– Text and voice messaging capable
– Wireless Backup capable
– High-quality speakerphone
– GPS enabled
– Bluetooth wireless technology
– Voice-activated dialing
– Sprint Vision services
– Parental Controls
– Voice memo/recorder
– Personal organizer, world clock, stop watch, alarm clock, calculator, scheduler & to-do list
– Picture Caller ID
– 1.1″ x 1.4″ TFT (128 x 160 pixels) (Main Display)
– 0.91″ x 0.45″ STN (96 x 32 pixels) (External Display)
– 3.8 Hours Talk Time
SCP-3200 Playful Pink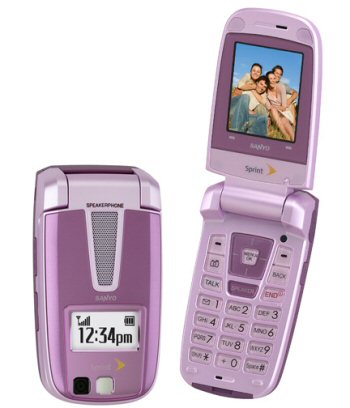 These new phones will come in 3 different colours which are, Playful Pink, Midnight Black or Atlantic Blue. Prices are as follows – $199.99 SRP; $49.99 with a two-year subscriber agreement.
Source — Engadget
Official Site – Sprint