Toshiba Portege G500 Phone: A notebook in your pocket
The Toshiba Portege G500 mobile phone is a notebook in your pocket and we will give a complete run down of what it is all about. This handset is a revolution when it comes to mobile technology, the Toshiba G500 is an attractive stylish phone not the thinnest of phones but with what you get within explains why it is not to thin.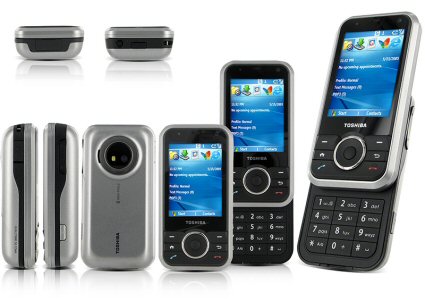 The G500 slider phone brings the amazing finger print security technology with finger tip control; the reason for fingerprint recognition is to keep all your business data and more safe. The suite of mobile applications gives you everything you need to play and work whilst on the move. The Protégé G500 in fact builds on the 130 year heritage of strong technical and engineering expertise and will you find all this on the G500, the answer is yes of course you can because this handset is jam packed with cutting edge mobile technology which means your office will be with you where ever you go anytime.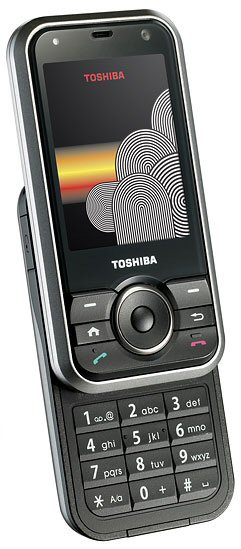 Always Stay In Touch —
The Toshiba Protégé G500 is feature rich and in that we mean it has the latest in connectivity options such as HSDPA, Tri-Band, 3G, Bluetooth, Wi-Fi and USB. Not only can these but you also stay in touch with SMS, MMS Push Email, Video Call, Voice, Instant Messaging and our favourite VoIP.
Always Stay In Control —
The G500 has state of the art biometric finger print sensor which you can use in a number of ways such as secure finger print authentication to gain access to the phone plus you can also register different fingerprints as shortcuts to open individual applications simply and quickly, the coolest part of this technology is that you can use the fingerprint sensor to lock and lock your PC and as a remote control for PowerPoint presentations on screen.
The real good thing about this mobile device is that you can make it your own, personalize it to the way you see fit, basically once you register the finger print you can really enjoy the peace and mind that comes with the higher levels of the ultimate mobile security, another good reason for this is that you never risk forgetting your PIN or Password.
A Detailed Look into Fingerprint Authentication —
Using your device for business is a major thing nowadays and many of you use feature rich mobile devices for business and of which you probably have confidential information only you wish to see, on normal phones and internet tablets running the risk of someone gaining access to your important files could be damaging to your business, fingerprint recognition on the Toshiba Portege G500 helps solve all of this. The most useful and practical way of keeping information safe is this specially designed mobile phone where software and sensor uses less battery and processing power than similar notebooks. The sensor recognizes the ridges of your finger detecting changes in electrical charge as your finger moves across it, the software extracts information about the location of certain points for future real time comparison and authentication, you can also as said above register fingerprints as shortcuts meaning that you can use each one to open a different application. Remember this (No fingerprint image is stored on the phone itself which helps to make security even more safe.
Enjoy the Entertainment Life —
The Toshiba Portege G500 phones has a high quality media player and Windows Media Player Mobile, you can sync music from your PC easily and with the 64MB of internal memory which can be expanded up to 2GB with the miniSD card, yeah baby you can store even more now. How about a 2 megapixel camera which takes pretty good pictures and even video clips, the G500 has a second camera for making video calls. The screen is 2.3 inches which gives you a bigger picture which means better quality for video clip downloads and video streaming.
The Toshiba Portege G500 comes with Windows Mobile 5.0 which is a very good OS for business, the Microsoft Office Mobile applications include Outlook, Word, Excel, PowerPoint and PDF Reader.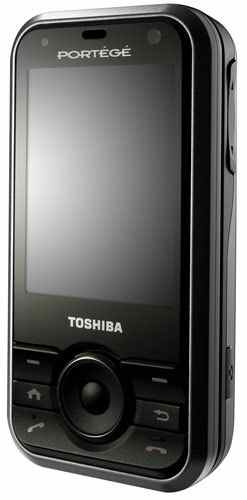 Below are the specs and further down the page you will see a video of this cool phone.
Toshiba G500 Specifications —
– HSDPA / GSM 900 / GSM 1800 / GSM 1900
– 2.3 Inch TFT Display with 65K colors/240 x 320 pixels
– Vibration
– MP3 & Polyphonic Ringtones
– GPRS Class 10 (4+1/3+2 slots), 32 – 48 kbps
– 3G HSDPA 3.6 Mbps
– EDGE
– Bluetooth v2.0 with A2DP
– WLAN Wi-Fi 802.11b/g, VoIP over WLAN
– USB v1.1 miniUSB
– Phonebook
– 64 MB Internal Memory plus miniSD Card Slot
– 20 received, 20 missed calls & 20 dialed (Call Records)
– MMS, SMS, EMS & Email
– WAP 2.0/xHTML & HTML (Opera 8.6) Browser
– Microsoft Window Mobile 5.0 OS
– 2 Megapixel Camera with 1600×1200 pixels & Video plus Secondary VGA Video Call Camera
– Fingerprint Sensor
– Video Telephony
– Java MIDP 2.0
– Pocket Office(Word, Excel, Outlook, PDF viewer)
– MP3/ACC+ player
– Photo album, Voice memo, Photo editor, Calculator, T9 & Calendar
– Up to 240 Hours Standby
– Up to 4 Hours Talk Time
– 96 x 49 x 22.9 mm
– 135 Grams
See More with Buy Now Option via — Expansys