BT Synergy 4500 Quad Digital Telephone with Answer Machine.
This is the Synergy 4500 by BT, a quad digital phone with answering machine in a classic matt black with a four line blue illuminate display. This Synergy 4500 is a set of four digital cordless phones each with its own base. It incorporates SMS texting and SIM card reader/writer with a 50 text message capacity. The BT Synergy 4500Quad Digital has a price of £129.75 but is now on offer at Argos for an amazing  £99.75, saving you £30.00, and can be delivered with 2 working days subject to stock, or can be reserve to pick up in store.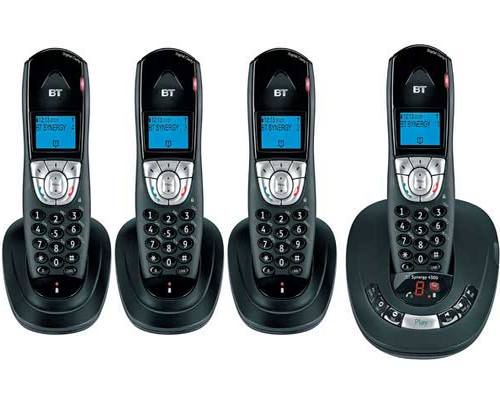 ·         255 name and number memory.
·         Up to 10 hours talk time.
·         Up to 100 hours standby.
·         20 last number redial.
·         50 call log.
·         Caller ID.
·         10 polyphonic ring tones.
·         10 monophonic ring tones (5 on base, 5 on handset).
·         Ringer volume control on handset and base.
·         11 minute answer machine with remote access from any touchtone phone.
·         Message playback from base and handset.  
To find out more information and how to buy please click here
Subscribe to the Phones Review Newsletter (free) for email updates and news, just enter your email CLICK HERE