Hitachi W53H Wooo mobile phone replaces GPS navigation systems
Will the Hitachi W53H also know as the Wooo be a permanent replacement for GPS navigation systems? Now there is a thought. The Hitachi W53H is a damn good looking sleek mobile phone which will come in 3 colours which are Nordic White, Euro Purple and our favourite Japan Black.
The main feature or should we say attraction about the Hitachi W53H Wooo mobile phone is that it is only 14.2mm which is great and with the styling which includes metallic accents around the edge and the hinges and plus the super smooth surface you know that this device is one sexy mother.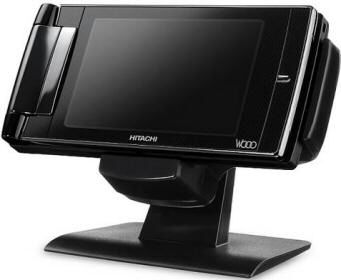 It has a 2.8 inch OLED screen that covers most of the phone from edge to edge; the 10000:1 contrast ratio will give you fantastic images as well. The Hitachi W53H Wooo GPS mobile phone will take microSD cards and will record videos of up to 2 hours with a 2GB card.
Other specs on the Hitachi Wooo phone includes a 2 MP camera, TV receiver, infra red port and of course GPS, well come on if Navigadget have it on their site then you know it has GPS.
Source — Product Reviews