Griffin Technology announce Apple iPhone accessory range: Christmas has come early
Phones Review attended the "What Hi-Fi Sound & Vision Stuff Show 2007" last Friday and was amazed at what we were seeing, we walked around a little to get a feel for the place and came across the Griffin exhibit which was fantastic, they had plenty of stuff there to chat about in the music world but what caught our eye was indeed the iPhone accessories which have just been announced.
The UK version of the Apple iPhone is nearly hear my mobile phone friends which in fact is this Friday the 9th and is without a doubt the most talked about, wrote about and dreamed about mobile gadget on the planet. The really good thing is that leading the iPod and iPhone accessory manufacturer are Griffin Technology and they are proud to announce their brand new range of innovative, compatible accessories — including a number of smart cases, holders, headphone adaptor and iTrip.
Many people who love their iPod will already know about Griffin because of their range of iPod accessories and now with the new boy on the block the Apple iPhone they now have announced their iPhone accessories.
The press release –
"We applaud Apple for its continued innovation, from iMac to iPod, and now iPhone. We expect the launch of the iPhone to be another market-changing moment," says Tony Johnson, International Account Manager, Griffin Technology. "Griffin's experience selling to the iPod generation puts us in a strong position to support Apple's vision and we look forward to establishing ourselves in the iPhone accessories market which is set to grow and grow."
The iPhone is tipped to be the 'must have' gift this Christmas so Griffin's stylish and smart range of accessories are certain to be met with excitement from consumers.
iClear Case £14.99. Available from O2 stores nationwide Built from crystal-clear polycarbonate (the same material used in astronauts' faceplates) the iClear provides the iPhone with superior protection from scratches and knocks when on the move. Its convenient design ensures total access to the iPhone touchscreen, controls, audio jack and keeps the camera lens free and clear. A removable belt clip doubles as a stand for hands-free use.
Headphone Adaptor £9.99. Black version is available exclusively from Carphone Warehouse nationwide. White version is available from O2 stores nationwide
This gives the user the flexibility to use a wide selection of other headphones with the iPhone. The specially designed 1/8" (3.5mm) stereo-mini plug fits the recess around the audio port on the iPhone, and couldn't be simpler to connect. It can also be used to connect oversized headphone plugs to an iPod in cases with a small headphone opening.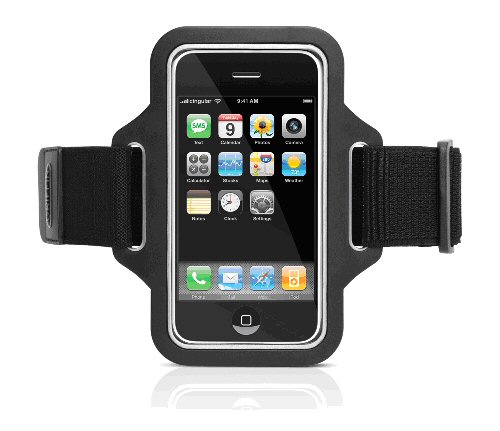 Streamline Armband £19.99. Available exclusively from Carphone Warehouse nationwide Griffin's sleek sport armband carries and protects the iPhone whilst running, cycling or engaging in other non-contact sports. The non-bulky but durable neoprene armstrap adjusts two ways for maximum comfort and a full-face screen protector guards the iPhone against scratches. For safety at night, the Streamline also features built-in reflective trim.
Elan Form £19.99. Available exclusively from Carphone Warehouse nationwide
Griffin's super slim iPhone case is perfectly formed and tough to match. The stylish, hard case offers total protection in a slender package – ideal for a pocket or purse. An impact-resistant polycarbonate inner shell fits closely around the iPhone, the top-grain luxurious leather exterior wraps around the case and the static-peel film prevents the screen from being scratched or smudged. Triple Protection and smart design combine to make this nothing short of essential.

Elan Snap-in £17.99. Available from O2 stores nationwide This custom-fitted leather case fits the iPhone like a second skin and the snap-in design provides quick, convenient access and outstanding protection. When not in use, the iPhone simply slides into the Snap-in, with the screen facing inward. The soft, inner lined case also cleverly covers the iPhone's ambient light sensor, causing the display to darken, thus saving valuable battery power. The Snap-in then easily slides on reversely when the iPhone is in use.
Elan Holster £19.99. Available exclusively from Carphone Warehouse nationwide The Holster snugly carries the iPhone in a full coverage, embossed black leather shell with a no-scratch lining. The iPhone is simply slid out of the case when making a call, surfing the web or listening to music and stored safely away when not in use. A removable, leather-wrapped clip offers multiple options for carrying on a bag, briefcase or backpack strap.
Elan Sleeve £19.99. Available exclusively from Carphone Warehouse nationwide This tough, light-weight sleeve encases the iPhone for a perfect custom fit. On the inside, the Elan Sleeve coddles the iPhone with smooth, no-scratch suede. The stylish full-grain leather exterior offers ultimate protection whilst leaving the iPhone touchscreen, controls, audio jack and camera lens free and clear. Again, a removable two-way clip offers multiple carrying options for carrying on a bag, briefcase or backpack strap.
iTrip Auto Universal Plus £29.99. Available exclusively from Carphone Warehouse nationwide
Griffin's popular iTrip broadcasts music from any mp3 player to an open FM frequency on a vehicle's FM stereo so it can be played through the stereo speakers. Thanks to iTrip Auto Universal Plus, the iPhone can now be used for the same purpose. The headphone cable fits directly into the iPhone plus it is possible to charge when traveling by simply plugging in the iPhone's sync cable to the iTrip's built-in USB port.
PowerJolt £14.99. Available exclusively from Carphone Warehouse nationwide
The PowerJolt has long been a best-selling car charger solution for the iPod, and is now available for the iPhone. This plugs into a vehicle's cigarette lighter or accessory power socket, connects to the iPhone and charges – even during use. The charge indicator glows green to show it's powered up and ready to go, amber while it's charging, and green again when finished. The in-line 2 Amp automotive fuse ensures you need not be concerned about power surges affecting the iPhone, and is easily replaced.
About Griffin Technology
Griffin Technology has earned its reputation as the creative leader in ingenious peripherals and accessories for Mac, PC, iPod, iPhone and gaming. Find out more about Griffin's entire range of consumer electronics products at www.griffintechnology.com.
Press contact
For more information, 300dpi JPEG images or press review samples, please contact:
Jane Leah, Claire Wood or Andy Stafford at Beam Agency. T: +44 (0)20 7833 9595
E: jane@beamagency.com Claire@beamagency.com or andy@beamagency.com