Sony Ericsson MD300 3G USB modem ends the war: Worlds first
The all new Sony Ericsson MD300 3G USB modem which is in fact the worlds first 3G USB modem, the reason we put in the title "ends the war" is because we are kind of crazy and if you think about it this device from Sony Ericsson is a marvel because the war which separates Sony Ericsson from North American 3G has been slipping away of you ask me.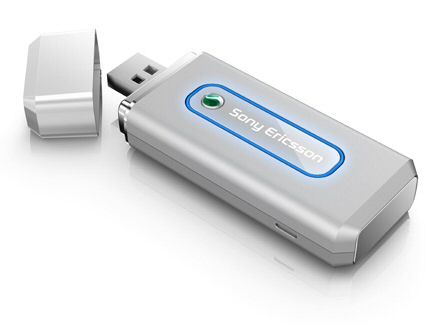 But now we can all turn our heads with a sigh of relief, got to admit this accessory it pretty cool and will make an impact on the market. The Sony Ericsson MD300 3G USB modem is Sony Ericsson's first laptop modem of any sort to support UMTS and HSDPA on the 850 and 1900MHz bands.
Not only is this a marvel but the looks are pretty impressive, in fact it is damn well sexy and we want one to review. So Sony Ericsson or any other company that will be selling this beauty please do send us one as we want to give the full review it deserves.
The MD300 will be available in luxury black and metallic silver in selected markets from Q1 2008.
Source – Sony Ericsson