Apple iPhone Week: Jamster app for iPhone customers in the UK
This news goes out to all you new UK Apple iPhone users and of course those who love Jamster and apps. We all love new applications and this is what Jamster will be launching today, Jamster are launching a brand new app for the iPhone which is part of the Apple iPhone Week.
They are launching a special offer for all you iPhone customers in the UK at some point today; you will be able to gain access to a wide variety of Jamster entertainment services on an online platform that is in fact specially designed for the Apple iPhone.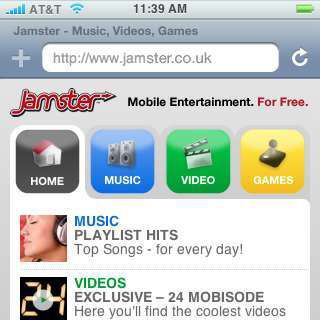 This new service is of course free of charge but only during the introductory period (What a surprise, we call it the honeymoon period. This will offer you a broad music offering plus a varied mix of cool music videos and funny videos and even movie trailers and not forgetting bonus material for selected films.
Some games that we know of will include Bejeweled from PopCap plus Black Jack & Bowling from MyNuMo and HandyGames will also be available to play.
Visit – Jamster
Subscribe to the Phones Review Newsletter (free) for email updates and news, just enter your email CLICK HERE