Avvenu has been acquired by Nokia to provide access to PCs
It has been announced by mobile phone giant Nokia that the company has acquired a privately owned start-up headquarters in Palo Alto California called Avvenu, and will be integrated into the new Services and Software unit in the reorganisation of the company due January 1st 2008.
Avvenu provide internet services which allow users to securely use, share and access files on their PC by using their mobile phone. Nokia believes this is the missing ingredient to mobile productivity, and allows easy access to existing PC content. Below we have the official press release for you so you can gain a clear picture.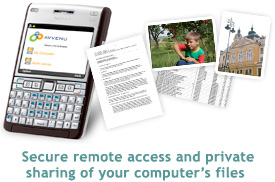 PRESS RELEASE – Nokia and Avvenu today announced that they have signed an agreement under which Nokia will acquire Avvenu www.avvenu.com. Avvenu provides Internet services that allow anyone to use their mobile devices to securely access, use and share personal computer files, even if their host computer is turned off. By acquiring Avvenu, Nokia plans to further enhance its portfolio of solutions for mobile operators, as well as deliver a secure file access and share service direct to mobile workers. The transaction is subject to customary closing conditions and has not yet been completed.
Nokia believes that anytime access to PC content is a missing ingredient to mobile productivity. Smartphone adoption is growing faster than previously estimated and surveys confirm that many people are using mobile devices to view, process, and edit content. Easy access to existing pc content will fuel mobile computing convenience and productivity.
"This acquisition is another step toward delivering on Nokia's business mobility strategy," said Mary McDowell, executive vice president and general manager, Enterprise Solutions, Nokia. "Avvenu's 'digital locker' file access and sharing technology allows users to search, access and share PC files remotely, using their mobile or other connected devices, even when their PC is turned off or not connected to the Internet. With the integration of Avvenu's technology, Nokia will further extend its business mobility solutions beyond email to add collaboration tools that enable greater everyday productivity through access to a user's own content anytime, anywhere, from any connected device."
"We share Nokia's vision of quickly and easily connecting people with their information and content regardless of where they are in the world, and whether their PC is with them or not," said Richard French, CEO, Avvenu. "The combination of our experienced team and our patented technology platform will help realize this vision, while access to Nokia's extensive technology and market resources will accelerate our time to market for new mobile Internet services."
Founded in 2004, Avvenu is a privately-owned start up headquartered in Palo Alto, California. Avvenu will be integrated into Nokia's new Services & Softwae unit as a part of the company re-organization that will take effect on January 1, 2008.
Source — intomobile
Subscribe to the Phones Review Newsletter (free) for email updates and news, just enter your email CLICK HERE