We have the iPhone now we got the iWatch PDA touchscreen phone: Secret agent style
The iWatch is an unlocked GSM cell phone mobile phone, not like the Apple iPhone is it. James Bond eat you heart out, hold on come to think of it Michael Knight from Knight Rider would love this one as well. We have seen the Apple iPhone and in fact seen too much of it, so shall we introduce you to the new kid on the block.
Behold the iWatch the touchscreen mobile phone PDA wristwatch which as said above an unlocked GSM cell phone, this mobile watch comes packed with features such as a 1.3″ 65K color TFT touchscreen display which has a tiny stylus that is tucked away in the housing, music and video player which plays MP3 and MP4, 60MB of integrated memory (Only bad news is it cannot be expanded), well we say that but there are you modders out there.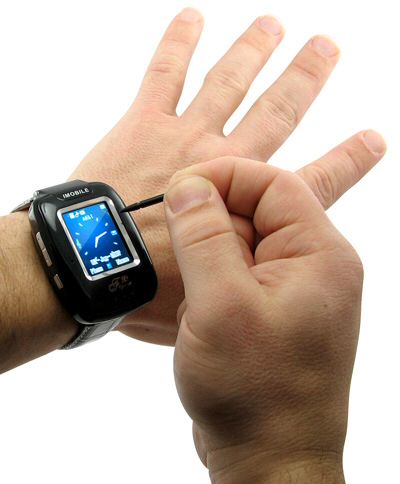 The GSM wrist watch has WAP browser, tri-band GSM/GPRS support, MP3 and MIDI ringtones, calendar and a notes application, handwriting recognition, sound recorder, e-book support, currency and unit converter and calculator plus this little baby darling of a watch can tell you the time out aloud.
The watch has USB interface for transferring data to and from a computer, charges via USB or main power supply, the iWatch package which includes wireless Bluetooth headset plus a wired one as well and two batteries will cost you only $199.99 USD.

Please send Phones Review one of these watches and we will thoroughly test it and give it a full review.
Source — ThinkGeek