Nokia plans to turn camera phones into finders of foreign food
Is it a camera, is it a phone, no, well yes, but now it's a foreign food finder as well! Well at least that's what Nokia are suggesting. Nokia have come up with a prototype camera phone application which will reportedly make ordering dinner from your favourite foreign restaurant easier.Nicknamed the Point & Find mobile, numerous elements such as image recognition, GPS positioning and artificial intelligence algorithms are incorporated into this multifunctional phone, although the actual working out of what image you may have snapped will be done on your network provider's server. Once you have taken your photo the phone will connect to the net and hopes are it will provide the user with a selection of online purchase options, or in the case of say a movie image it will show movie reviews, I'm sure you get the drift.
Now the thing is does this service get more accurate the higher quality camera you are using? Say if you take an image of a top using a 1 megapixel camera, will you receive a website that maybe selling trousers or even something totally different?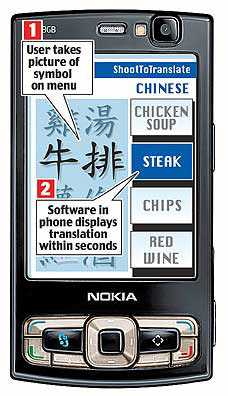 Yet there's more, Nokia have hopes of designing the concept to include the translation of foreign restaurant menus as well, so if you visit say a French cuisine restaurant where the menu is in French, just whip you mobile out, snap a picture of the menu and get it translated right there on your mobile screen. Apparently Nokia claims the prototype application is presently able to scan and translate 600 Japanese and 9000 Chinese words, still a bit of a way to go then before they cover all the bases.   
Source – reghardware
Subscribe to the Phones Review Newsletter (free) for email updates and news, just enter your email CLICK HERE