The Nokia 5200 at Virgin with one of three great gifts
This is the Nokia 5200 a stylish white and red colour with rounded corners so won't snag your pocket. The Nokia 5200 comes with some great features such as VGA camera with x4 zoom, video capture, MP3 player and FM stereo. The 5200 measures: 92.4 x 48.2 x 20.7mm and weighs in at 104.2 grams.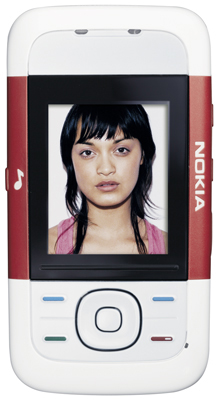 Virgin Mobile have the Nokia 5200 on some great tariffs one of which is Virgin – £25 — 18 months, 300 minutes and 300 texts per month, FREE Nokia 5200 handset, and the choice between — an iPod Nano, a slim-line PSP, or £100 credit back.
· Bluetooth
· WAP
· GPRS
· Infrared port
· Tri-band
· Modem
For more information on the Nokia 5200 and tariffs, or to purchase please visit Virgin Mobile
Subscribe to the Phones Review Newsletter (free) for email updates and news, just enter your email CLICK HERE