LG Vu, AX565 clamshell phone break cover at CES 08
LG's AX565 clamshell design mobile phone is supposed to be Alltel-bound, and features an external music control unusually square touchpad, a 1.3 megapixel camera, microSD expansion, and stereo Bluetooth.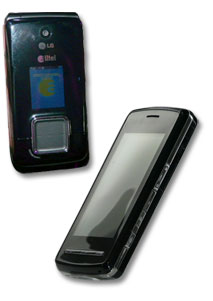 Next up is the LG Vu, the supposed moneymaker, a Pradaesque mobile phone that might usher in AT&T's MediaFLO when it eventually gets to launch within the next few months. Phone Scoop caught LG unawares by outing this pair of handsets, because as far as we are aware they aren't scheduled for announcement at CES this week. When we know more we'll inform you.
Source — Phonescoop
Subscribe to the Phones Review Newsletter (free) for email updates and news, just enter your email CLICK HERE