Verizon SMT5800; now available online, and hits stores 21st January
Verizon have officially announced the SMT5800 Windows Mobile smartphone, a new smartphone with full slide out QWERTY keypad and numeric keypad, 2.4 QVGA display screen, stereo Bluetooth support, microSD slot, and EV-DO. The SMT5800 is now available online to purchase at $299.99 after a $50.00 mail-in rebate with a new two year agreement. If you'd rather grab it from a store so you can get hands on before purchasing then it hits stores on 21st January. Press Release is below the images.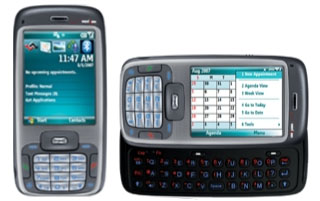 PRESS RELEASE – Verizon Wireless, the leading wireless company with the nation's most reliable wireless voice and data network, today announced the Verizon Wireless SMT5800 is available today online and through Verizon Wireless business sales. The SMT5800 will be available in Verizon Wireless Communications Stores on Jan. 21.Part compact phone, part messaging device, the Verizon Wireless SMT5800 features a standard mobile phone keypad and navigation as well as slide-out QWERTY keyboard, plus Windows Mobile 6 Standard for access to the Internet, calendar and contacts, tasks, e-mail and more. With the SMT5800, Verizon Wireless customers can easily view and edit Microsoft Word and Excel and view PowerPoint and PDF documents while on-the-go. Additional features of the SMT5800 include:2.0 Megapixel camera with video capture
– Bluetooth 2.0 including stereo with support for certain profiles
– microSD memory card slot (for up to 8 GB of removable memory)
– 2.4″ QVGA, 240×320 65k-color screen
– CDMA2000 1X/EV-DO digital dual band
– Dimensions: 4.1″ l x 2.0″ w x 0.7″ d
– Weight: 4.2 oz.
Verizon Wireless customers have the benefit of using the SMT5800 as a modem for notebooks when they subscribe to Verizon Wireless' BroadbandAccess Connect – which runs on the nation's most reliable wireless broadband network – to send and receive data.
The SMT5800 is available online at http://www.verizonwireless.com today for $299.99 after a $50 mail-in rebate and a new two-year customer agreement. Customers who purchase a qualified voice plan along with a data plan may be eligible for an additional $100 credit making the SMT5800 $199.99 for those customers.Business customers may contact a Verizon Wireless Business Sales Representative at 1-800-VZW-4BIZ to purchase the device.
Source — Intomobile
Subscribe to the Phones Review Newsletter (free) for email updates and news, just enter your email CLICK HERE