Samsung F300 mobile phone at the Carphone Warehouse
This is the super Ultra Music F300 from Samsung, a slim music mobile phone whit a slight difference; viewing the Samsung F300 from one side it appears like a normal mobile phone, but view it from the other it's a music player with large display and controls.
The F300 can handle a wide range of audio files which include MP3, WMA and ACC, it also incorporates an FM radio and supports optional Bluetooth headphones. Also there is a 2.0 megapixel camera, a high definition colour display screen, and a video player, along with 100MB of built-in memory.
The Samsung F300 is available at the Carphone Warehouse on Orange with a tariff of Dolphin – £35 — 18 months, 500 minutes and unlimited texts per month, FREE one month's insurance, Orange Wednesdays, and a FREE Samsung F300 handset.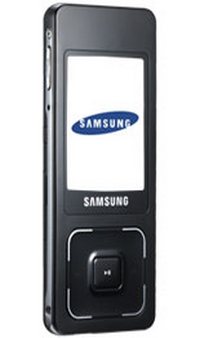 Bluetooth
Works in USA (Trband)
WAP
Faster data with GPRS
Music player
FM Radio
Camera phone
Colour screen
Polyphonic ringtones
Speakerphone
Picture messaging
Require more information or to purchase the Samsung F300 please visit the Carphone Warehouse
Subscribe to the Phones Review Newsletter (free) for email updates and news, just enter your email CLICK HERE