PlanPlus Online by Franklin Covey now accessible from your mobile phone
Franklin Covey's PlusPlan Online is now available for those wanting to do the organising thing via their smartphone's browser, including CRM, content management, weekly planning module, scheduling, tasks, calendaring and the like. This web application actually works with the Apple iPhone however it has not been as yet fully optimised for Safari. Please see the full official Press release below the image for full information.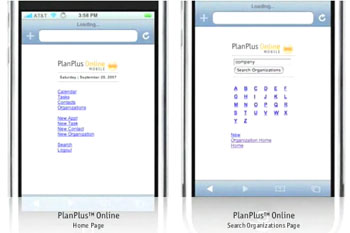 PRESS RELEASE – FranklinCovey announced today that PlanPlus Online is now accessible from any smartphone with a Web browser, such as an iPhone, BlackBerry, Palm or Windows Mobile device.
Developed jointly by FranklinCovey and COMPLETExRM, PlanPlus Online is a secure Web-based application that provides planning, sales management, customer relationship management (CRM), team collaboration and process management for small and medium-sized businesses via the Internet. Its familiar "planner-like" interface is based on FranklinCovey's renowned planning and time management methodology. The application offers team calendaring and scheduling and an integrated contact manager that easily tracks all important client information, sales opportunities and activities through a customizable sales process. Key features include:
Sales management and customer relationship management (CRM)
Team calendaring and scheduling
Organizes daily tasks by utilizing the Quick Prioritize Module
Task delegation and accountability reports
Integrated contact manager
Manages and tracks all client information and history, sales opportunities and activities through a customizable sales process integrated within daily planning tools
FranklinCovey's planning methods and concepts within familiar "planner-like" interface for easy daily or weekly planning (Daily Prioritized Task List, Contacts, Appointments, etc.)
Weekly planning module for accomplishing and tracking key goals
Utilizes custom fields for greater flexibility in tracking clients and other key data
Powerful Search capability to quickly access contacts, notes, tasks and more
A built-in e-mail center which converts e-mails to Tasks, Appointments, etc. as well as standard e-mail features and functionality
Access to all information from any smartphone: iPhone, BlackBerry, Palm or Windows Mobile device
Utilizes the strongest encryption available
"This on-line planning, sales management and CRM application will increase the collective productivity of those who work in small or medium-sized business, or who are on the road visiting customers," said Jeff Anderson, Senior Vice President of Product Management, FranklinCovey. "PlanPlus Online now allows users fast, direct access to key business and sales information from any smartphone. Employees can plan, organize, track and report from anywhere via the Web, saving businesses the expense of purchasing a costly corporate server."
"The Web services foundation for PlanPlus Online allows groups and organizations to manage the dynamic relationships between people and services in an entirely new way," said Keith Norris, president and co-founder of COMPLETExRM. "That capability is enhanced still further with today's addition of mobile client support."
The new mobile client support is free and available now for all current and new users of PlanPlus Online. To initiate the service, PlanPlus users can simply point their device's browser to www.planplusonline.com/mobile and login.
PlanPlus Online was designed to maximize the user experience from any wireless feed, regardless of smartphone speed and without complicated synchronization or duplication. The format has been completely re-tooled for the smartphone screen. Users can also have their existing IMAP or POP3 email account delivered to their PlanPlus Online portal so they can send, receive and manage email within PlanPlus Online. FranklinCovey and COMPLETExRM are now in the process of updating the application so that users will soon have the ability to sync their Microsoft Outlook data to their mobile device.
PlanPlus Online also includes the same weekly and daily planning tools from FranklinCovey's award-winning software offerings, which allow users to review their Mission Statement, Values, Goals, and Weekly Compass and drag and drop items from these forms onto their schedule or task list. Also available to users are PlanPlus for Microsoft Outlook, software that integrates FranklinCovey's proven planning methodology within Outlook, and PlanPlus for Windows, for customers who are not Outlook-centric but use Windows XP or Windows Vista.
Pricing and Availability
PlanPlus Online is available in 87 FranklinCovey retail stores, www.planplusonline.com, or by calling               800-819-1812       . Suggested retail price for PlanPlus Online is $25 per month. A one-month introductory subscription is available for $9.95. Quantity discounts are also available.
System Requirements
Internet Explorer, Netscape 4, Firefox 1+
Any operating system that supports a Browser (Windows 98, 2000, XP, Mac OS 9+, Linux, BlackBerry, Palm, Pocket PC, Windows Mobile, Symbian)
Security Features
128-bit VeriSign SSL Certification
1024 Bit RSA Public Keys
24/7/365 physical security
Redundant configuration
Source — Intomobile
Subscribe to the Phones Review Newsletter (free) for email updates and news, just enter your email CLICK HERE