Macworld Moscone Center, navigate around using your iPhone
Finding your way around Macworld Expo in San Francisco's Moscaone Center can be somewhat of a task, but now you can navigate your way around by using your Apple iPhone. Zami have announced they are to compliment their community directories with an interactive map showing the Moscone Center, it will also show exhibitor listings including booth numbers and relevant information which should make your life a little easier trying to find your way round.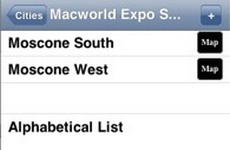 So if you're headed for Macworld San Francisco 08 just point your iPhone Safari browser at the Zami website and brows through the iPhone optimized directory.
Source — iPhone Atlas
Subscribe to the Phones Review Newsletter (free) for email updates and news, just enter your email CLICK HERE