Motorola MotoRAZR V3i DG with free PSP and 2 games
Everyone loves designer, and one of the top designer names is Dolce & Gabbana, coming together with Motorola, the Italian designers have create a new version of the MotoRAZR V3i, this fabulous mobile phone is in luxurious gold and silver and is engraved with the Dolce & Gabbana logo.
You will also receive an exclusive pendent of the famous gold D&G designer initials, while inside the MotoRAZR V3i DG you will find updated special screensavers, MP3 ringtones, unique animations and special backgrounds.  And the MotoRAZR V3i DG also has a 1.23 megapixel camera.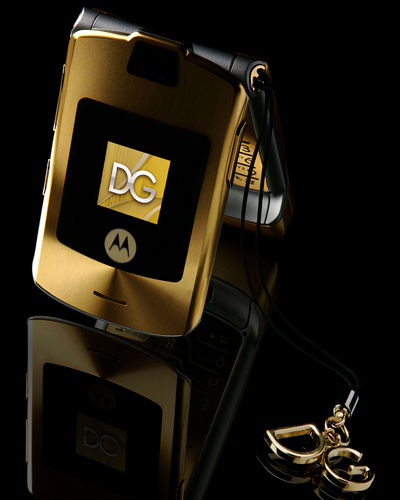 To gain this superb tough of designers luxury the Link are offering it on the Orange network with a tariff of Canary – £40 — 18 months, 850 minutes and 300 texts per month, a FREE MotoRAZR V3i Dolce & Gaddana gold and silver handset, and a FREE PSP Slim-n-Lite plus a game, and a FREE 4GB iPod Nano.
·         Dimensions: 98 x 53 x 14mm
·         Bluetooth
·         WAP 2.0
·         MicroSD
·         Quad-band
·         Weight: 100g
Receive free next day delivery when you purchase the Motorola MotoRAZR V3i DG mobile phone.
For further information on this superb offer on the Motorola MotoRAZR V3i DG and other great deals please visit The Link
Subscribe to the Phones Review Newsletter (free) for email updates and news, just enter your email CLICK HERE