BT Verve 450 Twin Cordless home phone with answer machine
From BT we have the Verve 450 twin cordless home phone set comprising of two handsets and the main base being an answer machine, and in stunning jet black with a blue display. This allows you to have a phone in two rooms and with superb features such as send and receive text messages from your BT Verve 450 handset; store up to 200 of your most frequently used names, alert tone to indicate that a new text message has been received, and much more.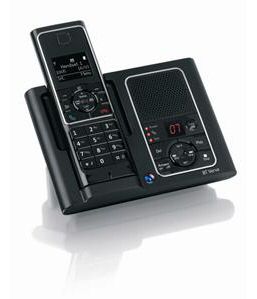 · Fully GAP (register up to 5 handsets)
· Call timer
· Clock/alarm
· Conference call
· Caller groups with individual ring tones
· 10 hours talk-time, 100 hours standby
Answer Machine:
· Message counter
· Up to 15 minutes recording time
· Answer only option
· Call screening
· Playback through base or handset
The BT Verve 450 Twin Cordless home phone is available at the BT Online Store.