BT Freestyle 350 Quad cordless home phone with SMS Text feature
Fed up with having to rush into a room to answer the phone? Upstairs and the phone rings downstairs? Save yourself the trouble by getting a quad set of home phones. Maybe the one for you is the BT Freestyle 350 quad cordless handsets with SMS text feature. With four phones in the house there will be no more need to rush to answer that call.
The BT Freestyle 350 quad set comes in stylish silver and black with colour display; the main base unit is also an answer machine so you won't miss any important calls while you are out. The Freestyle 350 has some helpful features built in such as storing up to 100 names and numbers, BT button, caller display and call waiting, and much more.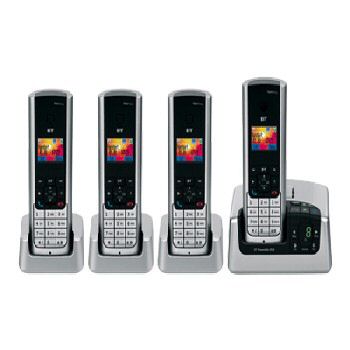 ·         Answering machine can be operated from the base, at a handset or by remote access from another phone
·         Send and receive SMS text messages.
·         Change the wallpaper and colour of the screen
·         Expandable system
. You can have up to 5 GAP compatible handsets registered to your BT Freestyle 350 base
·         Built in Digital Answering Machine
·         Digital call clarity with up to 300m range outdoors and up to 50m indoors.
·         Fully GAP
·         Up to 15 minutes recording time
·         Hands-free
For more information on the BT Freestyle 350 please visit the BT online store