Callpod Phoenix conferencing and communications available to 5 users using Bluetooth
Callpod, the company behind the ultra long-range Bluetooth headset and the six-devices-at-once charger have now come up with a Bluetooth 2.0 conferencing device known as the Phoenix which can join up to five headsets and Skype or a mobile phone. Apparently Phoenix will be able to have an area range of up to 300,000+ sq ft, and will support push-to-talk technology, and will provide its users with no voice cancellation and full duplex conferencing.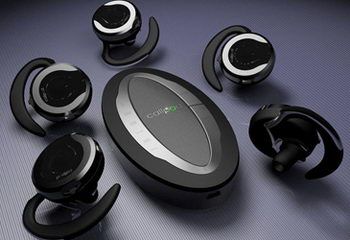 It has been suggested that the devices battery will be able to last 10 hours of use; the device itself features two buttons, one being for pairing while the other is for on/off power; it will also feature eight LEDs — 1 power — 1 phone — 1 pairing and 5 headsets.
Source — intomobile