Rogers Canada hints at possible iPhone arrival with offer of unlimited data
Canada eagerly await the arrival of Apple's iPhone; it is likely numerous unlocked iPhone's surfing the Rogers Network, however as yet there has been no official deal formed between Rogers and Apple for the iPhone even though Rogers Canada is the only compatible GSM network in Canada able to take the iPhone.
This means there is a lack of GSM competition in Canada as so leads to high data rates from Rogers, which many think is an obstacle in bring Apple's iPhone to Canada. AT&T iPhone rate plan is 450 anytime minutes, 5000 night and weekend minutes with unlimited data at $60 a month. So a comparable plan with Rogers would pan out at $295.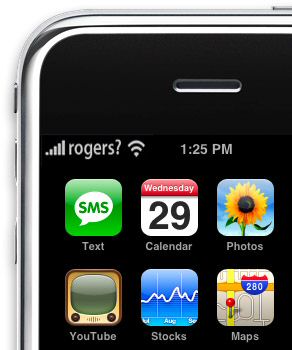 But, Rogers may be upping their game because as of today Rogers is expected to bring out new data price structures which should give Canadian GSM users unlimited data for only $20 per month.
This new pack is to be known as the Communicate Value pack and iss speculated to signal Rogers preparation for the hopefully forthcoming Apple iPhone to cross the border into Canadian Territory.
Source — Apple Insider