BT Freestyle 3500 Twin home phone set
This is the Freestyle 3500 twin handset home phone from BT in classic silver with an orange backlit display, and 15 minute answer machine as the main base unit. The Freestyle 3500 is packed with useful features such as: hands-free, built-in clock, ten hours of talk-time and 100 hours of standby time.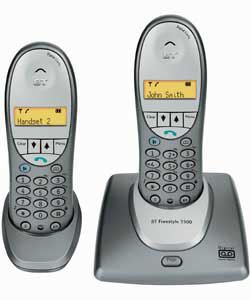 ·         Distance: 50m inside — 300m outside
·         Conference: 3-way
·         Gap compatible
·         DECT
·         Call waiting
·         Call transfer
·         Caller ID
·         Ringtones: 6
·         VoIP compatible
To view further information or to purchase the BT Freestyle 3500 Twin please visit the BT online store.