Samsung F480 Armani look-alike, G400 Dual Touch Chic & B&O F400 phones
Oh yes a whole new wave of cool phones coming soon, we have always believed what mobile-review say so let us see what they have for us today then. Well it seems that Samsung are going to unleash all their power in providing us with mobile phones that have class, style and high specs.
Over at mobile-review they have a bigger list but I wanted to narrow it down to 3 handsets, and here are my choices, first of all we have the Samsung F480 (Look at pic below it is the first one on the left), the Samsung F480 is like the Prada but without the Prada and in fact sort of like the Armani phone. It is 11.5mm thin with a 2.8-inch, 240 x 320 touchscreen, features include Samsung's latest Croix OS with tactile feedback plus 5 megapixel camera with LED flash, 3G connectivity and FM-radio, the Samsung F480 is expected for release in April or May 2008 with a price tag between €350 and €400.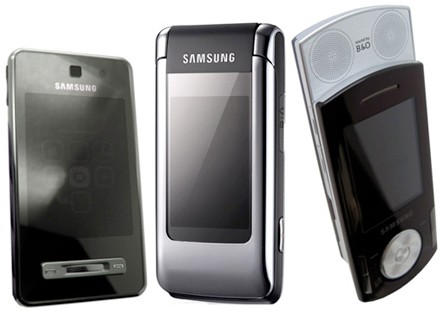 The second mobile phone we have for you is the Samsung G400 Dual Touch Chic, the internal 2.2-inches, QVGA and external displays are touch sensitive, the all metal casing gives it that expensive and lush feel. It is expected to have a 5 megapixel camera, 100MB built in memory plus microSD expansion and FM-radio should launch sometime in May 2008 for an estimated price tag of €300.
The third phone on the list is the Samsung B&O F400, oh yes pure listening power, this is a dual slider phone where the front slides up to reveal a keypad and slide it down to reveal the phones music mode with exposed B&O speakers, some features include a 2.2-inch QVGA display, microSD card and RDS-enabled FM radio plus 3G, this phone is expected late March with a price tag of €370-€390.
We will give you reviews on each of these phones with full specifications over the next few weeks, to be sure that you do not miss out; please join out newsletter below, you will be updated automatically soon as we have published.
Source — Engadget Mobile via mobile-review