Is the Sony Ericsson XPERIA X1 better than the Apple iPhone?
So at the Mobile World Congress 2008, Sony Ericsson brought out their be-all, end-all, PDA style, super smartphone, the XPERIA X1, and showed it off in all its glory to the world. A shiny new sparkling mobile that doesn't disappoint in the looks department, as it's believed HTC had a lot to do with it; with its 3 inch touch-screen, touch sensitive trackball, slide out QWERTY keyboard, and all run on the extremely familiar Windows Mobile 6.0 Pro OS.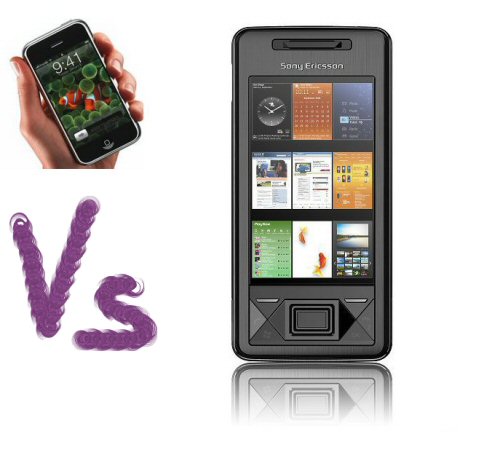 Product Reviews has raised an obvouis question which we thought we would carry on – But…doesn't the XPERIA X1 seem somewhat similar to Apple's iPhone? Now the question arises, is the XPERIA X1 a challenge to the iPhone? Does Apple have something to worry about with the arrival of the XPERIA X1?
Apple's iPhone has been around for a while now, so maybe Sony Ericsson's new XPERIA X1 chould be possibly seen as a challenge to the iPhone, and why not as it has virtually the same style and makeup doesn't it? And so to the biggest question there is…is the Sony Ericsson XPERIA X1 a better handset than Apple's iPhone?
Well, to answer that or any of the above I guess we will just have to wait until the public can get their hands on the XPERIA X1 so it can actually be fully compared to the iPhone. So, if you do manage to grab hold of one of these babies feel free to drop us a line to express your views.
For full specs and pictures see here.