Atlas Kinetic mobile, the no battery, movement powered phone
The movement of your mobile phone can add functionality as in Sony Ericsson's Walkman phones where you shake it to activate a function; a novel idea, but one that Atlas Kinetic have taken further in as much as they use the handsets movement to actually power the handset.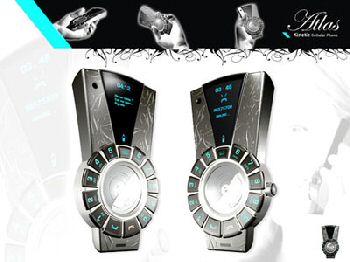 Yep, Atlas Kinetic is a green mobile which doesn't require a battery; it's constructed from aluminium and glass, and a central sapphire glass which houses the charging and generating unit, this unit then gains power to your mobile as you move around.
The Atlas Kinetic gains enough power for basic features, so multimedia is out, and should you leave the handset lying around too long, a few quick shakes will bring it back to life. One thing…the Atlas Kinetic is just a concept at the moment, but could possibly be an advancement in future mobile phones.
Source — yankodesign