S60 gets handy with Handy Weather
Handy Weather Software by Epocware is a clever little application that keeps you connected with weather forecasts anywhere and anytime. As long as you have wireless internet compatibility you can gain forecasts for 40,000+ cities across the globe.
The weather data is provided via Intellicast, the world's meteorological company for the mobile Symbian platform. Handy Weather is an easy to use fast tool which is 10X faster than a browser, and brings you 5 day weather forecasts, and 5 day temperature graph, and even a weather screensaver for your mobile phone.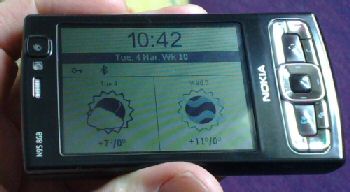 Handy Weather really only does one thing and that's check the weather for a small number of locations; however it does it in a smooth and unobtrusive manner which has earned this application a coveted Mega Apps Awards. New to version 5 of Handy Weather are the satellite maps of your area, although they aren't updated automatically due to bandwidth reasons.
Handy Weather comes to you at a reasonable price of $20.00
Source — Handy Weather