Yahoo takes Yahoo Go 3.0 to Europe and announce onePlace
Yahoo announced yesterday their onePlace, "a revolutionary mobile content management solution," to enable consumers to "better manage the wide selection of content available across the Internet." This idea is hopefully to supply a central point from which users can access all favourite content, dynamic or static.
onePlace includes features which allow centralised and open content management where users link or add whatever content they desire, such as collections, pulse, favourites, personalised views, categories, dynamic content(sources) mobile RSS reader, updates, along with smart organisation that allows a user to group together content and create "rich experience around a specific topic."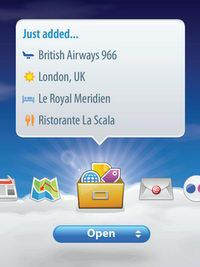 Yahoo onePlace expects to launch in Q2 this year. Same time, Yahoo also announced availability of Yahoo! Go 3.0 available for a number of European countries, and several European based widgets via Yahoo's mobile browser and client based offerings. 
So over the next couple of months the UK, Spain, Germany, Italy, and France should be able to access localised services via new mobile widget development partners which include eBay, MySpace, Eurosport, Dopplr, and XING.
For full press release go here