Telus getting BlackBerry Curve & Samsung U720, U720 what is this?
The BlackBerry 8130 and the 8830 is already on the Telus site so the next best move for them is to have a new launch, this will be the recently spotted CDMA BlackBerry Curve.
So Telus you are stepping it up a notch hey, the people over at HowardForums got a shot of the Telus site showing the 8330 for $199.99 CAD (Canadian) on a 3 year contract, but for some strange reason the 8330 has disappeared.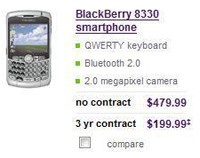 Anyway the Curve and the Samsung U720 (what is this?) trust us on this one we will keep you posted about the U720, we have no idea what this phone is and as usual no specs, no price and no availability, what we do know is they are calling it the "Flipper".
The Samsung U720 can be found in metadata associated with Telus' media player.