Apple iPhone search empowered by mobilepeople
The iPhone now uses mobilepeople's award winning liquid mobile search platform, which extends opportunities for directory publishers and directory assistance companies. Mobilepeople has provided an optimised user interface for the Apple iPhone's safari browser enabling to search White Pages, Yellow Pages, and all other content published on the liquid platform.
Functionality wise you get a click to call option, save any business search to contacts, send results to a friend, get directions to desired addresses, and a function to see results on a map. The local search requires less data thus costs less for the user which is thanks to AJAX technology that swaps small packets of data with a server so isn't necessary to reload entire mobile pages at all times.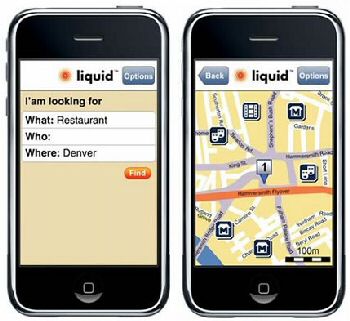 The local search itself requires less data traffic, which means lower costs for the user. Thanks to AJAX technology which exchanges small packets of data with the server it is no longer necessary to reload the entire mobile pages at all times.
Apparently, mobilepeople is also ready to introduce a consumer based mobile local search for Apple's iPhone SDK.
Source — slashphone