Need a free Apple iPhone video converter for Windows?
There are load of users of the Apple iPhone who would love to transfer their movies, music clips, and videos onto their iPhone, but it isn't that easy to accomplish especially if the movies library is encoded using differing formats and you lack the software to convert them into iPhone format.
So over to Movies2iPhone by Oliver Ksikes; Movies2iPhone is a video converter which is based on Ffmpeg for Windows machines which will convert any movie on your computer into an iPhone compatible file then all you need to do is transfer said files through iTunes; and the best thing of all is that Movies2iPhone is absolutely free.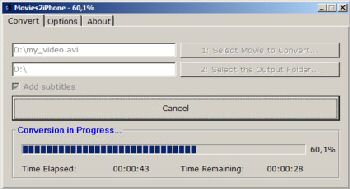 The Movies2iPhone application supports Divx, avi, mpeg, Xvid, asf, wmv, vob, mov, and loads more files. The Movies2iPhone software also features support for adding subtitles in 7 languages. Movies2iPhone will work on Windows XP or Windows Vista only
One more thing you should be aware of is that Movies2iPhone is still in beta and therefore will still have a few bugs to sort out.
Source — iphoneworld