DECT VoIP radio phone the Symbio
This is the new Symbio, a highly innovative concept phone that combines two functions into one handset; the Symbio is an Internet radio and a wireless VoIP phone. The combination of voice over internet protocol telephony, and internet radio, very clever.
Some of the features of the Symbio are: cordless hands-free, DECT VoIP, 200 name and numbers phone book, HiFi ringtones, and 50 most recent calls log. Other features, available according to versions and locations are: SMS body messaging, phonebook synchronisation, MyInfokiosk RSS data dealing, SMS short messaging, Multi-line handling, and HD sound (G722 speech coding)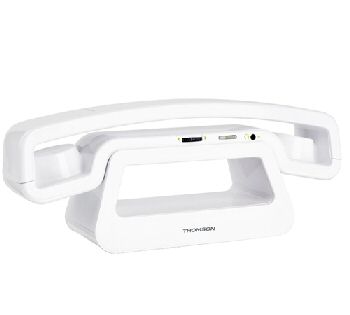 – Internet Radio specs:
– Extended range DECT technology
– Stereo speakers 2 x 3 Watts
– Digital broadcast
– Portable radio delivering 6 hours listening time
– Huge election of internet stations
– Category: classical Pop Rock ect
– Location: international, regional, national
– Screen: Colour with auto orientation
– Alarm
– Preference: SYNBIO stores 10 of your favourite stations and 10 recently selected.
Source — phone-reviews