1 in US 2 in UK Apple iPhone tops web
StatCounter statistics have the Apple iPhone at the top of the mobile browser market No 1 in the US and No 2 in the UK. M:Metrics has released new research which has iPhone users hitting the internet with viguor, apparently virtually every iPhone user has accessed the net via their handset at some point, the actual figure being 85%.
Mark Donovan, senior analyst at M:Metrics said: "The iPhone has certainly delivered on its hype. Beyond a doubt, this device is compelling consumers to interact with the mobile Web, delivering off-the-charts usage from everything to text messaging to mobile video."
According to the figures 20% of users accessed Facebook via an iPhone as compared to 1.5% of the entire mobile market. 30% accessed YouTube while 36% accessed Google Maps. The chart below outlines M:Metrics iPhone findings showing the iPhone accessed video and social networking at more than double any over smartphone users.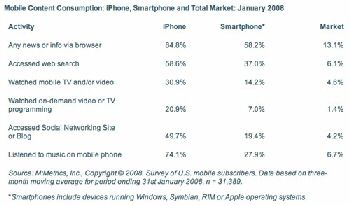 M:Metrics figures can also reveal that the average user of the iPhone of probably male between the ages of 25 and 34, and have an income in excess of $100,000 with a college degree.
Source — mmetrics