Bluetouch Car Kit: hands-free while at the wheel
As most are aware, carrying and using things while driving isn't the best of ideas as it's always best policy to keep your hands on the steering wheel, and not answering your mobile or fiddling with your MP3 player. So to solve this dilemma we have the Bluetouch Car kit, a hands-free system that allows the driver to talk on the phone and listen to music as they drive and keeps their hands on the wheel.
The Bluetouch car kit is easy to control; all that's needed is a light tap on the bright touch-screen, however if you're not into touch-screens then the voice-recognition feature will certainly help you out. Simply connect the Bluetouch via Bluetooth to your mobile handset, PAD or other mobile device, and you'll be hands-free in no time.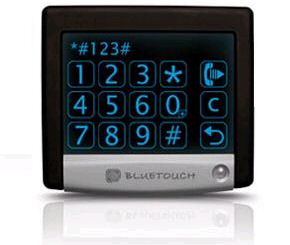 The Bluetouch Car Kit is somewhat expensive at around $399.00USD, but it's better to travel safely than end up having an accident due to lack of wheel control.
Source — mobilewhack