Kyocera heads for GSM market with 4 mobile handsets
Kyocera have come up with four new mobile handsets with GSM, and is to initially launch in Latin America, which is where several CDMA providers earlier switched over to GSM networks.
Kyocera announced the E4600, E3500, E2500, and S1600 GSM handsets; so working with the E4600 first, it is a slider design quad-band handset with 2 megapixel camera, MP3 player, Bluetooth, 2.2 inch display and expandable memory slot.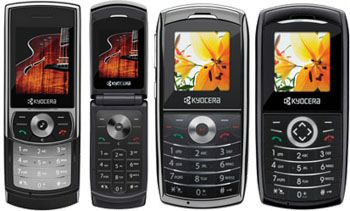 The E3500 is a clamshell design quad-band handset with dual colour display, MP3 player, 1.3 megapixel camera, external music controls, Bluetooth and expandable memory. The E2500 takes on the ultra-slim candy-bar design, is quad-band with 1.3 megapixel camera, MP3 player, expandable memory and Bluetooth.
Finally the S1600 the low-end of the four Kyocera offerings which is a dual-band candy-bar design with VGA camera.
Shipping to Latin America is already underway and retail launches will undoubtedly commence on a carrier by carrier basis in the coming months.
Source — businesswire