New Bluetooth accessories launched by Tritton
Bluetooth mobile phone accessory manufacturer Tritton has just recently launched who new devices, one a headset the AX Micro, and the other a car kit the AX Visor.
The AX Micro headset is a mono device with a sleek micro design which has been designed with flexible finger grips which lay on the ear's inner rim bringing "extreme ease of wear and stability." A user should be able to gain 150 hrs standby and 5 hrs talk-time from the AX Micro, which is available now from Tritton's online and off-lone retailers with a MSRP of £59.99.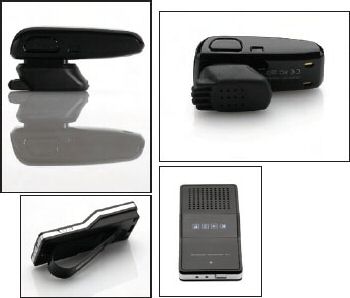 Next is the AX Visor with has been designed for the driver; it can work happily as an in-car hands free device in "car mode" or "speakerphone mode", while in car mode the AX Visor will activate its unidirectional microphone, and as speakerphone it uses omnidirectional microphone. The Bluetooth AX Visor incorporates an OLED display that shows caller ID, and has a battery with the ability to bring up to 400 hrs standby and 15 hrs talk-time, and can be charged via either car cigarette lighter, USB, or AC/DC adapter. The AX Visor Bluetooth accessory is out now with a price tag of $119.99.
Source — intomobile