Samsung G810 gains CNN news application
Mobile news apps are beginning to grab hold within the mobile space, with newer mobiles and smartphones every making it easier for the user to check out the latest news from all over the net, it is somewhat surprising that news outlets target mobile phones with native apps. However any new news application has got to be a welcome addition to any mobile handset app portfolio.
An announcement from CNN has their new Java based application bringing the latest CNN news stories, hourly CNN World News Now video bulletins, and customizable news feeds to your mobile handset; and what's more is the CNN news application comes pre-installed on the Samsung G810 handset.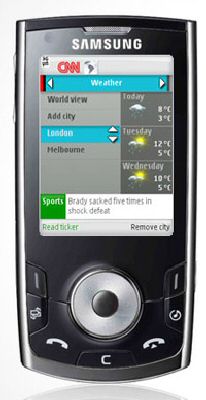 Another feature of this application is it even allows for citizen journalists to "iReport" any latest news that's happening around them. The iReports feature lets savvy mobile journalists upload pictures and videos direct to CNN's citizen journalist website. If Samsung's G810 with its 5 megapixel camera unit is out of your reach you can still get the news simply by downloading the CNN news app for your mobile handset.
To check the compatibility of your mobile handset see here
Source — pocketpicks