Specs leaked on the Motorola MotoZINE ZN200 mobile phone
Motorola's MotoZINE ZN5 has been stealing the limelight in the Motorola range recently, and its lesser known sister handsets the MotoZINE ZN200 seems to go unnoticed in the background. Unfortunately the MotoZine ZN200 has come to light with the leakage of an unglamorous spec leak.
This leaked spec sheet comes courtesy of a newly discovered User Agent profile, and according to said profile the Motorola MotoZINE ZN200 will sport a lesser 2 megapixel camera, unlike the 5 megapixel Kodak shooter lavished on the MotoZINE ZN5, however a 2 megapixel camera will still take the images a user needs.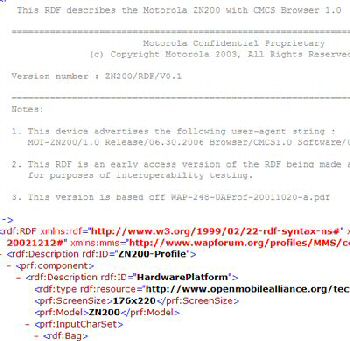 Unfortunately that's about it spec wise as no other specs were mentioned about the MoroZINE ZN200 apart from the slight references to possible multiple audio and video formats, but as multimedia recording and playback was expected anyway on the ZN200 it's not that much of a surprise to see mention of video/audio support.
So, it apparently won't offer a great deal in the feature area, so let's just hope it has some stylish design that may make it stand out. When we hear more on the Motorola MotoZINE ZN200 we'll let you know.
Source — cellpassion