TOKYOPOP Manga seriously gets mobile
TOKYOPOP, the famous manga publisher, has publicized it has agreed an exclusive deal with GoComics, which is to bring an abundance of new menga games to mobile handsets of the next few months.
According to this deal TOKYOPOP is to be featured in GoComic's newly expanded mobile comics and manga offering, and is available in the GoComics Mobile Manga plus Comics app, or via mobile web, and apparently there is to be a standalone TOKYOPOP mobile internet deck as well.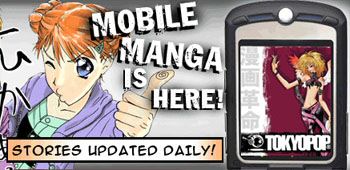 With the aid of these new platforms, GoComics actually reached virtually every comic fan who owns a mobile handset, and that includes the Apple iPhone and smartphones. On mobile manga and comics can be view with adverts, or if you can't stand those ads they can be bought individually via a point bases subscription.
Comic, menga fan and wish to know more? Further information can be found at the GoComic website.