First Nokia to support NTT DoCoMo i-mode the Nokia 6124 Classic
If you happen to be living in Japan this probably won't be of any real concern to you as Japan is already year's ahead in terms of mobile telecommunications, however you may be happy to hear that the Nokia 6124 Classic will be landing in Japan with the added support of i-mode. 2 megapixel cameras and QVGA resolution may well seem somewhat ancient, but maybe you haven't seen the quantity of RAZRs there are still floating around.
The Nokia 6124 classic is a dual mode multimedia mobile handset which incorporates WCDMA/HSDPA 900/2100 and EDGE 850/900/1800/1900, 2 built-in cameras, being a 2 megapixel and a QVGA 240 x 320, a 16M colour display, USB 2.0, Bluetooth 2.0 EDR/A2DP, and a microSD memory card slot.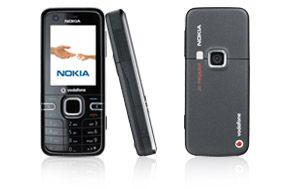 Source — digitimes