Fancy a date? How about using your Apple iPhone to find one?
Need a date with a sexy member of the opposite sex? Then maybe it's time to use your Apple iPhone as a means of finding one. Apparently DNA Dating has announced their new web application for the Apple iPhone and iPod Touch, an app that gives iPhone handset users access to a new online dating network.
To grab hold of this dating app simply point your iPhone Safari browser at www.datingdna.com/iphone and commence viewing the images of compatible singles on your iPhone screen. User profiles are shown using a compatibility scoring system, your "dating DNA" to increase the likelihood of running into that love of your life; that one you will hit it off with. Once you've located a likely candidate for your affection add them to your "DNA Strand" so you can make future contact.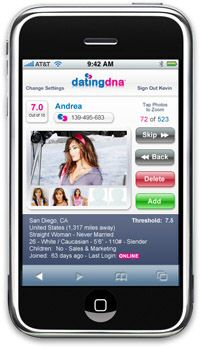 Dating DNA works on a person's unique "dating DNA" identifier, much like your double-helix DNA determines all about you from hair colour to susceptibility to certain illnesses. Dating DNA uses a 9 digit DNA dating number used by every member and based on a member's questionnaire on the Dating DNA website, this "dating DNA" helps determine compatibility with other singles within the network.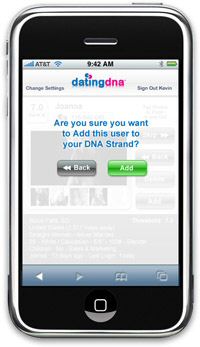 CEO of Dating DNA, Kevin Carmony said: "Not only is it our desire to allow everyone to use their Dating DNA Number all across the Internet's social graph, but we also want to make our services available on a wide array of Internet devices, such as the iPhone,"
Source — macdailynews