Planned for May 9th Samsung U940 Glyde
To kick off the summer season with a bang as Verizon is expected to launch their much predicted Samsung Glyde on the 9th of May which follows HTC's expected announcement on 6th of May.
The Samsung U940 Glyde is of course the American version of the Samsung F700 Croix, complete with full-body pressure sensitive touch-screen along with a sliding QWERTY keyboard. When news came of the Samsung U940 Glyde passing through the FCC everyone has been anticipating its arrival.
The Glyde's full HTML browser should make for easy web surfing with the Samsung Glyde's 3G radio, along with of course the pseudo-haptic feedback. Having an entire handset vibate on touch-screen input is somewhat useless, far better to have localised vibration within the area of touch-screen input giving a more tactile feedback. However any feedback is better than none, especially if it is done on a graduated and intuitive technique.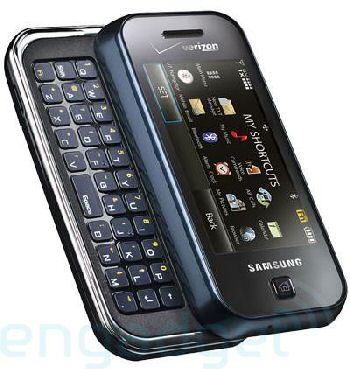 The word is the Samsung U940 Glyde hits the shelves on May 9th with a price tag of $370 on a one year contract, outright purchase will set you back $420, and a two year contract will run in at $200.
Source — engadgetmobile