Get your chocolate fix from Godiva via your Blackberry
World renowned chocolate makers Godiva has announced a new way to order your chocolate fix, they have launched a new mobile phone application which will allow owners of BlackBerry's to browse Godiva's select chocolates and place an order via their BlackBerry mobile handset.
Godiva's new application integrates with your BlackBerry contacts list, which in turn gives the user the opportunity to purchase and ship Godiva chocolates to anyone within their contacts list. So with a simple text you can send a box of luxury chocolates to that special person in your life, make sure that chocolate gift arrives for that birthday, or simply indulge your chocolate fantasy by have a box of Godiva chocolate arrive at your front door.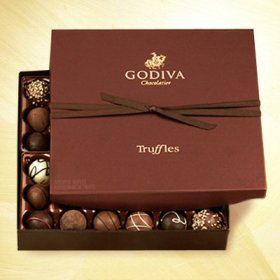 To download the BlackBerry app just point your BlackBerry at www.godiva.com/mobile
Source — i4u